"Will it change? Will we?"
That was a question asked of me by a gorgeous teenager a few weeks ago.
Apparently the answer is (quite literally) YES!!
Since I wrote that piece my fingers have been crossed so very tightly. As I write, the exit poll results of one of the most divisive referendums we've endured in Ireland continue to roll in – on the same day as Harvey Weinstein was charged with rape.  I see that some have called for this date to be designated 'Savita Day' from now on. How heartwarming… how lovely. And still how heart-breaking.
A New Irish Revolution:
The reality is that Irish women have endured trauma as a result of an ill-judged addition to our constitution. We have felt devalued, unsupported, unworthy. We've been afraid, and judged. Were we hurtling towards a Handmaid's Tale type dystopia?
There were days there recently where I felt we were. That series, brilliant though it is, was actually getting difficult to watch … I know I'm not alone there!! The campaign has been bitter and so very, very painful. Social media has been awash with lies and poison. But things are indeed changing. There is hope. It now seems that nearly 70% of us believe that womens' lives have value. That women can be trusted. That mental health is health. That unnecessary pain, anguish and torture might soon end (I'd prefer 100% but I'll take it, for now).
Maybe I will never again witness a woman grieving for the dead baby she still carries. Or hear about the shame she has endured, the judgement levelled at her by people shouting "murderer" at her as she leaves a foreign clinic in indescribable physical and psychological pain. Maybe now I will never again witness the helplessness that women and their loving partners feel in a crisis that no human being should ever have to face. 
They said "if you witness an abortion you'd vote no".
There are many medical procedures people might be squeamish about. But if you witnessed the anguish of a grieving broken woman, if you heard the sounds she made, the cries from deep deep within her soul, rising with bile from her core. Raw, pure, relentless pain. If you saw the agony etched on a helpless partner who is powerless to act –
Well, I have. Too often. And I voted yes. Because women matter.
It's official - Womens' lives matter #repealed #psychsforchoice #repealthe8th
Click To Tweet
I am grateful that the PSI came out in support of our lovely, vulnerable clients, indeed of our membership. We are, after all, advocates. We teach choice and encourage autonomy. What a pity we didn't hear from IAHIP, IACP or ICP (correct me if I'm wrong – please!
I am confident that later this year we will see just and compassionate legislation introduced which will bring with it a sense of safety and worth. All will be well. All will be better.
We are now a step closer to equality. We have decriminalised women who need quality, safe healthcare at home, surrounded by loved ones, without shame and without judgement.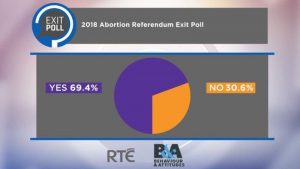 Last night I was out socialising and did a sneaky google of the exit polls to see how things were looking. I thought it would be tight, I thought we might lose. When I saw the word "landslide" I nearly got sick – but then quickly my eyes landed on the word "Yes" and I cried. Happy tears rolled down my happy face and I thought of all the women – my friends, my colleagues, my clients, myself. I smiled and let them roll not caring who saw. I looked around and could see that I wasn't the only one. We nodded to each other – you know that nod – the silent acknowledgement of a long battle finally won. Not without casualties.
Out plopped the tears. Shame-free. As is right. #endthestigma #repealedthe8th #womenslivesmatter
tweet to another happy person
I hope that our younger girls and women can feel that change, learn to love themselves, and will take heart. As I do.
Tonight I'm going to catch up on Handmaid's Tale. It'll be an easier watch this time.
For the first time in a long time, I feel safer.
Huge ps: An enormous nod of acknowledgement to Erin of In Her Shoes whose tireless difficult work no doubt made a huge impact on this campaign. With over 46% of yes voters citing hearing womens' stories as an influencing factor on their choice, we can guess with a certain degree of certainty that this woman, and all who had the courage to share with her helped us make history. Kudos.